The Artist Leading a Black Pop Art Movement in Nashville
Inside of his one bedroom apartment, he has propped canvases along the walls and hung them from the ceiling. Any evidence of white space is covered by colorful, ambitious, and youthful representations of black pop culture. The black pop art movement continues its slow and intentional boil.
While verbally reserved, Nashville-based artist, Xpayne, speaks monologues with his paintings and illustrations.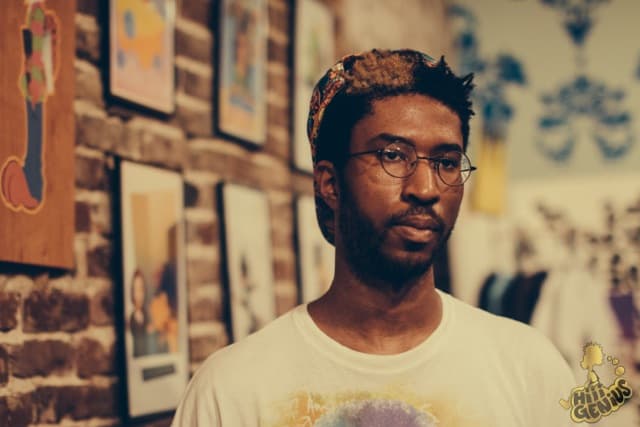 "I think that with my work, I just try to make the seven year old in me happy," Xpayne said, adding that his most viral pieces were a collection of 90s-inspired scenes from shows including the American sitcom, Martin.
Finding Innovation in the Past
Xpayne remembers receiving pencils and canvases in addition to toys on Christmas day as a child. Sitting cross-legged on the floor in front of the television set, he watched Charlie Brown and dreamt of becoming a cartoonist.
His love of drawing led him straight into the comforting arms of Andy Warhol illustrations, which provided a steady stream of motivation during college. Attending Nossi College of Art from 2005-2007 and Watkins College of Art from 2010-2014, Xpayne evolved from a painter to a graphic designer, and ultimately, an illustrator.
"I kind of, as a creative, I try not to put all of my eggs in one basket," he said of his approach to both art and business.
With a consistent perspective through each painting, print, t-shirt, and more, Xpayne achieves the flexibility to experiment with mediums as well as the ability to diversify his income.
Catching Eyes and Earning Supporters
For Xpayne, navigating the art industry has come with its own set of challenges. Standing out in a crowd of more than 2 million artists across the country requires a certain level of perseverance, patience, and confidence.
"The priority has been to just do good work," Xpayne said. "I'm already in a pretty good position as an artist, so I just do the best job that I can. That will get you the next project."
The late Mychael Knight, designer and finalist on Season 3 of the TV show Project Runway, was the first celebrity to contact Xpayne.
"He was really, I think like, the first big name that made me realize how versatile and valuable what I'm doing can be."
Then there was Spike Lee who stumbled upon an illustration Xpayne created of Radio Raheem and purchased the original in order to produce t-shirts with the design around the anniversary of his film, "Do the Right Thing."
To this day, however, he is most proud of the first piece of art he ever sold. It was to his mom for 75 cents.
"I appreciate the individual interactions with people and seeing people be energized by what I do," Xpayne said.
Bringing the Black Pop Art Movement to Slim & Husky's
It was only a matter of time before Slim & Husky's caught wind of his unique approach to interpreting black culture.
As a member of the local art collective, Norf Studios, Xpayne ran around with other S&H artists like doughjoe, who introduced him to co-founders Clint Gray, E.J. Reed, and Derrick Moore.
"I showed them some of my pieces and they were like, that one, that one."
Signs of his black pop art are scattered throughout the North Nashville and Antioch locations and inside the S&H P.R.E.A.M. Shop.  
Follow Xpayne's latest work @xpayneart on Instagram.
Keep Your Ear to the Beat
Get updates delivered to your inbox to find out about Slim & Husky's events and news in your area.